NASA's Orion spacecraft performed better than expected on its first deep-space flight despite experiencing unexpected damage to its heat shield components.
In a teleconference Tuesday (March 7), NASA leadership discussed Orion's performance on the historic Artemis 1 mission that saw the spacecraft orbit the moon before returning to Earth after 25 days. Orion was carried into lunar orbit Launching on November 16, 2022 Above the agency's Space Launch System rocket (SLS), it is the most powerful rocket ever launched.
John Honeycutt, manager of NASA's SLS program, said during a Tuesday teleconference that the agency was surprised by how well both the rocket and spacecraft flew in the test flight, which was the first for SLS and the second for Orion. "We continue to see outstanding performance from SLS, and it has done an outstanding job and has met all of our expectations and actually exceeded most of them," Honeycutt said, "Post-flight data analyzes show that SLS is ready to support the crewed Artemis mission. "
It goes without saying that every aspect of the mission went perfectly. During Tuesday's call, NASA program managers revealed that Orion's heat shield did not perform as expected, losing more material than the agency had planned. Still, NASA leadership is confident that everything will be ready for Artemis 2's crewed flight around the moon, which is planned for next year.
Related: NASA's Artemis Program: What You Need to Know
Howard Hu, manager of NASA's Orion program, praised the crew module's performance during the test flight, noting that NASA was able to meet the 161 overall test objectives planned for the mission, even adding an additional 21 during the flight based on the spacecraft's performance.
"We also accomplished our number one objective, which was bringing the crew module safely back to Earth from 24,500 mph when it touched down at about 16 mph, and we were able to land within 2.4 miles of our goal," Hu said during a Tuesday teleconference. said "We needed 6.2 miles. So, really great performance because we got back from the moon."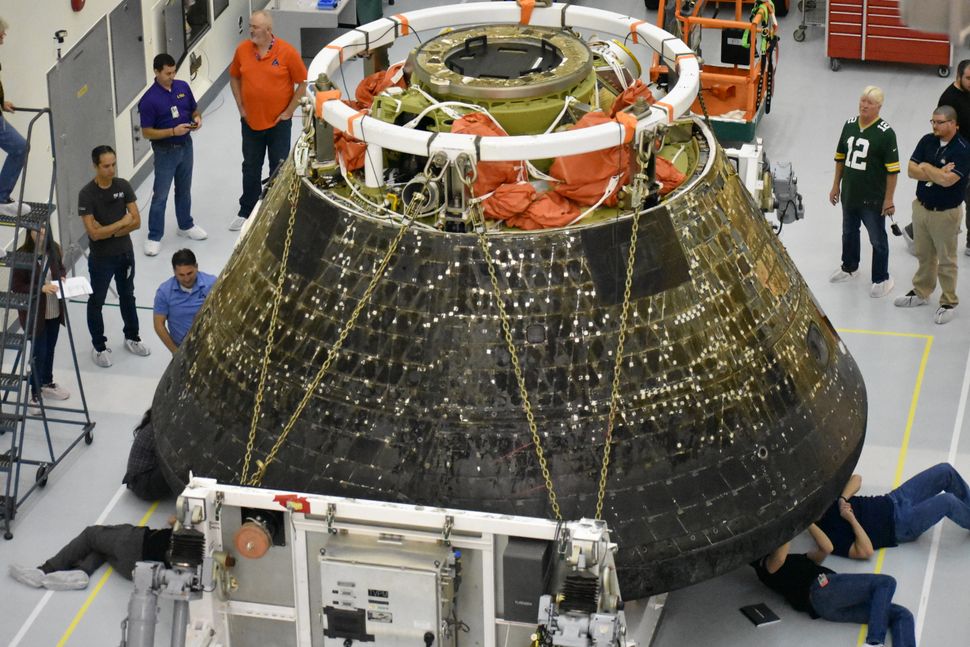 A major topic of discussion during Tuesday's teleconference was the Orion spacecraft's heat shield. The largest built. When the Orion crew module was inspected after the splashdown, NASA discovered much more variation in the performance of the heat shield than they had expected.
"Some of the expected char components that we would expect to return to the house dissipated differently than what our computer models and our ground testing predicted," Hu said. "So we got rid of more of the burned material during re-entry before landing than expected."
Hu explained that NASA teams are investigating extensive data on Orion's heat shield performance, including images and videos from reentry, onboard sensor readings and even X-ray images of sample material taken from the shield.
"Overall, there is much work to be done in this investigation," Hu said. "We're starting this effort because we've just put all the pieces of information together. Those samples, the videos, the images and the data from the spacecraft and put them together. And now we're evaluating and transferring that data. Go ahead with that evaluation."
Despite the unexpected loss of heat shield material and irregular spots during re-entry, NASA's program managers stressed that they feel confident that the crewed Artemis 2 mission will be able to launch on schedule in 2024.
"We're making great progress on Orion, so I'm excited to complete this evaluation, implement the lessons learned for Artemis 2, and see the crew flying on Artemis 2."
NASA is currently aiming to launch Artemis 2 in November 2024. The mission will send a crew of astronauts on an eight-day mission around the moon and return to test Orion's performance, crew interface, and guidance and navigation systems.
Follow Brett on Twitter @Brettingley (opens in new tab). follow us @space.com (opens in new tab)or on Facebook (opens in new tab) And Instagram (opens in new tab).